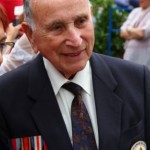 I must confess that I am rather disappointed that the passing of Mr Lomon has not received more attention. He was the the last surviving British-based member of the International Brigade, who fought General Franco's fascists in the Spanish Civil War. The International brigade were a volunteer group, whose numbers included George Orwell and Laurie Lee. They were committed to stopping the spread of Fascism. In their own words, "they came because their open eyes saw no other way". Subsequent events of course would show the far-sightedness of their actions.
The best report on his life is from The Independent here. As the passage below shows, he was a man who had the courage to put his own life at risk to defend freedom. He saw the folly of appeasing a bully and "turning a blind eye". He certainly never took an easy option. That at least is noteworthy for those of us living in more cynicial times. 
"Mr Lomon fought in the battle of Teruel and in the Aragon offensive, where republicans faced overwhelming odds. Franco's forces were equipped with 950 aeroplanes, 200 tanks and more than 100,000 troops provided by Mussolini. But on 31 March 1938 he was captured and subjected to beatings by guards, starvation rations and verminous conditions. Almost one in five of the hundreds captured did not survive. Eventually, he was freed after a prisoner-of-war exchange in 1938 for Italian captives held in Britain".
Mr Kydd.
 STOP PRESS
An interesting post from someone who clearly knows more about the topic than this Tudor specialist. I have included an extract below – they do say a little bit of knowledge can be dangerous…
"…by the way – two small factual details: George Orwell didn't fight with the International Brigades, but with the POUM militia. And while Laurie Lee did join the IBs, he probably never actually fought in Spain (he was epileptic)."
Richard Baxell
I will put up a link to Mr Baxell's site.
January 2013
Please find that link here.