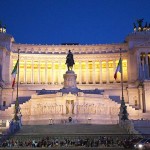 Something (mainly) to support AS students with their document work. BBC Radio 4 are in the process of running a three part series on Italian Unification called  The Invention of Italy. Episode two was on tonight, and appears to be most useful to us as it takes the narrative from Napoleon to Garibaldi.
The programme description states;
In October 1860, on a misty road north of Naples, Giuseppe Garibaldi met the future king of Italy and handed over control of the south. This brief moment in the story of the new Italian state has been often mythologised, but it is not as straightforward as it seems. Violence, civil war, the birth of the mafia – these elements in the story are often overlooked.
Beginning with Napoleon's call to the peoples of Italy in 1796, Misha Glenny picks his way through Italian unification with clarity and care. Rome only became part of this new European country under a century and a half ago – and even then the Pope ordered his followers neither to stand in nor vote in elections for the new state. Small wonder some claim that Italy is not really unified yet.
With expert contributions from Christopher Duggan, Marco Meriggi, Leoluca Orlando, Lucy Riall, Lucy Hughes-Hallet, Filippo de Vivo, David Gilmour, Beppe Severgnini, Simon Winder, Joze Serbec and David Laven.
Have a listen and see what you think.
Mr Kydd.