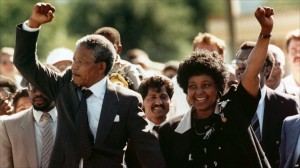 Well the obvious answer to that is it is up to you. Moreover, many of you will have a clear understanding  of what Nelson Mandela did to destroy Apartheid from your GCSE coursework. 
Yet, since studying Mandela, you will have moved to you A Level studies, and can reflect that today most historians prefer to consider the roles of ideas (such as nationalism and economics) rather than the works of great men. Think for example about the role of Garibaldi in the unification of Italy. Today perhaps only Mikhail Gorbachev could come close to Mandela in having a reputation for fulfilling that idea of a great individual who changed the world for his role in ending the Cold War in a peaceful way.
Perhaps it is too soon to dispasionately answer the question. What is certainly unquestionable is few people now alive will ever be as loved as  Nelson Mandela. You may also like to watch this excellent BBC review of his life.
Click the hyperlinks to see what you think.
Mr Kydd.