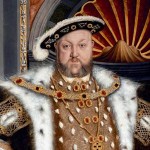 If you click here you will get to Alastair Smart's article in the Daily Telegraph review of the National Portrait Gallery's "Real Tudors: Kings & Queens Rediscovered" exhibition.
"The curators are keen to stress how coloured our vision of the Tudor monarchs has become by the embellishments of film, theatre and other arts in the intervening centuries. Charles Laughton as the belching ruler in The Private Life of Henry VIII – gnawing his way through chicken legs to Oscar glory – is a prime example.
The aim of the new display, by contrast, is to consider how the monarchs would have been seen in their own time. Not simply by showing portraits from the NPG collection and beyond, but by applying to them the latest tools of scientific investigation: from dendrochronology and paint sampling to X-ray and infrared reflectographs."
Mr Kydd.