All,
Those maps from today's lesson. The first of course reflects the extent to which self-determination was denied to Germany by the victorious allies in 1919. The second is a map showing the maximum extent of German territory in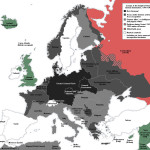 the Second World War. The slavic areas to the east of Germany were the orginal targets of lebensraum. An interesting question here how different this is from earlier German nationalist ideas of Mitteleuropa…
Have a good half term,
Mr Kydd.