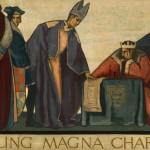 2015 is of course very much a year of anniversaries, and I thought that I would use this post to collect some of the better articles.
This article from the Daily Telegraph is a good start. It looks at the Magna Carta and asks "what exactly is Magna Carta? Why was it granted? Does it really speak to the principles of democracy, liberty and human rights with which it is so often associated? And what is the purpose of the charter – if it has one – today?"
This article (also from the Daily Telegraph) attempts to explain  Why we must remember the bloody cost of Waterloo.
Click here for the BBC Radio 4 In Our Time programme where Melvyn Bragg and guests discuss the Battle of Agincourt."Owre kynge went forth to Normandy, With grace and myyt of chivalry; The God for hym wrouyt marvelously, Wherefore Englonde may calle, and cry Deo gratias: Deo gratias redde pro victoria." The great victory was Agincourt as described in the Agincourt Carol, when the 'happy few' of the English army of King Henry V vanquished the French forces on St Crispin's Day 1415. It is a battle that has resounded through the centuries and has been used by so many to mean so much. But how important was the battle in the strategic struggles of the time? What were the pressures at home that drove Henry's march through France? And what is the cultural legacy of Agincourt?" 
Enjoy,
Mr Kydd.