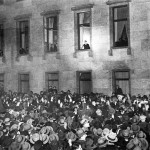 Eighty three years ago today Hitler became chancellor of Germany. How this happened is our post-Mock investigation. As such, you may like to look at the following from History Today.
Click here for Richard Cavendish's article about that day.
Click here for Elizabeth Wiskemann's article about the Night of the Long Knives.
Mr Kydd.