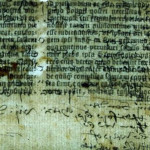 The website below contains an excellent article from David De Mar in The New Historian. It explains how secret annotations have been found on a very early English Bible, and then ties this to our debate about when and how the Reformation came to England. An extract can be found below.
"The researchers were able to identify the annotations as being copied from Thomas Cromwell's "Great Bible," a series of English Reformation Bibles that were produced for around a decade starting in 1539. These annotations were purposefully disguised in 1600 by covering them with thick paper, hidden from view for more than four centuries.
Dr. Poleg points out that the presence of the annotations indicates that the Reformation was not a single event that transformed English religious life, but a more gradual process that took its time to work. Less like a single moment akin to Caesar crossing the Rubicon and more a complex and slow process. The English annotations combined together with the Latin of the original Bible show how the nation slowly adopted Protestantism instead of simply renouncing Catholicism in one fell swoop."
Mr Kydd.