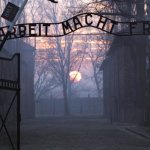 All,
Following on from today's lesson, for prep I would like you to do the following.
 Explore the three BBC web pages below.
  This account of the 70th anniversary of the liberation of Auschwitz II-Birkenau (here).
The audio slideshow from the Auschwitz Museum explaining the problems of preserving the ageing and crumbling 191-hectare site, with limited funds (here).
Two experts on Auschwitz arguing for and against the idea that the former Nazi death camp should be allowed to crumble away (here)
Then post which view you agree with more (and why) below. One paragraph please.
Please note, for your post to appear, I will need to approve it – so don't worry it is does not show up straight away.
You can of course discuss this with people at home.
Mr Kydd.