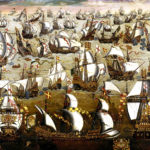 Year Twelve,
If the click here you will get to Geoffrey Woodward's 1988 article considering the reasons why the Armada failed.
He concludes "when the responsibility for the failure of the Spanish Armada is apportioned, the lion's share of the blame should go neither to Parma nor to Medina Sidonia, but to Philip II. As Sir Walter Raleigh tersely put it somewhat later: 'To invade by sea upon a perilous coast, being neither in possession of any port, nor succoured by any party, may better fit a prince presuming on his fortune than enriched with understanding'. The king had created the Armada, and in the end the king destroyed it."
Have a read and see what you think.
Mr Kydd.