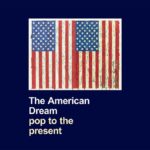 If you click here then you can find out more about the forthcoming American Dream exhibition.  Just £13 to you young people. It opens in March, and looks very special. There is of course so much else to see that is very special (and free). You can explore what is on offer here.
The American Dream exhibition is described as follows….
"The past six decades have been among the most dynamic and turbulent in US history, from JFK's assassination, Apollo 11 and Vietnam to the AIDS crisis, racism and gender politics. Responding to the changing times, American artists have produced prints unprecedented in their scale and ambition.
Starting with the explosion of pop art in the 1960s, the exhibition includes works by the most celebrated American artists. From Andy Warhol, Jasper Johns and Robert Rauschenberg to Ed Ruscha, Kara Walker and Julie Mehretu – all boldly experimented with printmaking. Experience this extraordinary history through their eyes".
Mr Kydd.