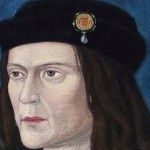 Everything about Richard III is just interesting. He is famed as the last English king of England (remember the Tudors were Welsh and the Stuarts were Scottish) and the last King to die in battle (at the Battle of Bosworth in 1485). He is also said to be the target of very unfair propaganda attacking his physical appearance (hump and all) and his actions (many now question if it was he who ordered the murder of the princes in the Tower).
Whilst there is doubt over whether his body was stripped naked (see Harry other Royals have got there before you) and thrown in the river, it does seem that Richard met an undignified end.
Now there is an excellent piece of archaeology from the University of Leicester seeking to identify his final resting place. This work (the Greyfriars project) stems in part from the recent work that relocated the site of the Battle of Bosworth (you may like to refer to the earlier post discussing this revision of the location of the battle site). This article from the Daily Telegraph discusses what the project is trying to achieve.
Mr  Kydd.