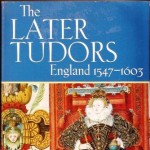 Sincere apologies all, but the pressures of examinations and the end of term meant that I missed the passing of the great Penry Williams in May. Many of you will have come across his text  The Later Tudors as further reading in the Elizabethan course. I have put a couple of copies in the school library, and your unit work booklets have the appropriate chapters highlighted.
This excellent obituary from The Guardian reflects his worthwhile life well. In terms of his work as a Tudor historian, it highlights his debate with G R Elton over the nature of Tudor government, stating "his take on 16th-century government…was… that there was not a revolution in administration led by Thomas Cromwell, as Elton had claimed, but a continued tangle of local patronage and favouritism". 
As is often the way with historians, this "was vindicated only after bruising academic controversy." As such, it again gives us an insight into how personal rivalries often energise historical debates. For my part I have always thought Williams has a concise yet busy writing style, that was best when he was working with emperical evidence. See for example chapter 6 of the Later Tudors on economic matters.
Mr Kydd.