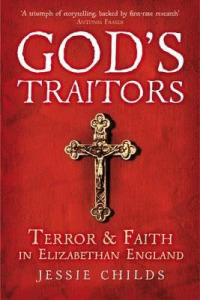 Please click here for the Guardian's review of the best history books of 2014. Hopefully there will be something that interests you (for when you get the Christmas book tokens).
God's Traitors is described as follows;
Jessie Childs's account of cloak-and-dagger intrigue in Tudor England, God's Traitors: Terror & Faith in Elizabethan England (Bodley Head £25), conjures a John le Carré-like underworld of political double-dealing and "spiery" (as the Elizabethans called it). This was a time when moles were planted in Catholic seminaries and Elizabethan diplomacy created a looking-glass war in which priest was turned against priest, informant against informant. In crisp prose, Childs recreates a world of heroism and holiness in Tudor England.
Mr Kydd.