I don't just want this site to be used for examination practice. I really want to develop your love of history. As such this section of the site will have links and ideas to get you to think beyond your studies and the classroom.
Things to read and watch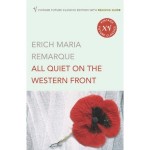 The Year Ten course starts with the horrors of the First World War. There has been so much written about this that it is hard to know what to recommend. I have always been particularly fond of Erich Maria Remarque's All Quiet On The Western Front. As the Amazon review states this 1920s novel "is probably the most famous anti-war novel ever written. The story is told by a young German 'unknown soldier' in the trenches of Flanders during the First World War. Through his eyes we see all the realities of war; under fire, on patrol, waiting in the trenches, at home on leave, and in hospitals and dressing stations. Although there are vividly described incidents which remain in mind, there is no sense of adventure here, only the feeling of youth betrayed and a deceptively simple indictment of war – of any war – told for a whole generation of victims." There is also an excellent film version to watch.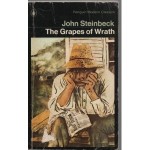 If you want to know more about the human impact of the Great Depression then you might want to read John Steinbeck's The Grapes of Wrath. If that proves a bit heavy going, then you could always opt to watch the excellent Bugsy Malone 
Political cartoons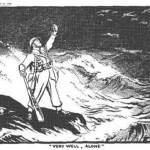 One area of History that has always really interested me is political cartoons. In our modern world course we do look at a number cartoonists of the inter-war years. For many observers of such things David Low is very important. Low was a New Zealander who worked in Britain from 1919 until his death in 1963. He was famed for his early and unequivocal condemnation of Hitler, and I am certain that you will have seen some of his work. My favourite piece of his work is "Very Well, Alone" (shown) which summed up the continued British resistance after Dunkirk. Hitler so hated Low that his name was in the Black Book of people to be rounded up as dangerous enemies of the Third Reich after the invasion of Britain. This  link gives you a broader taste of Low's work, and if you want to know more about him, then I have books that you are welcome to borrow.
Stop Press
You might also like to look at this collection of his work from the British Cartoon Archive.
Mr Kydd.