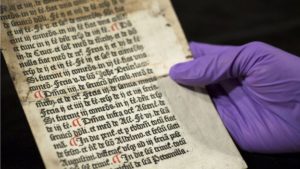 If you click here you will get to a BBC report on a find in the University of Reading's special finds department – two pages of previously unknown print by Claxton.
"Erika Delbecque, special collections librarian at the university, described the find as "incredibly rare". The two pages, with religious texts in medieval Latin, were produced by Caxton at his pioneering printing works in Westminster – and are now going on public display for the first time since they were sold from his print shop in the 15th Century. They are believed to be from the earliest years of Caxton's printing press, either 1476 or 1477, and are being hailed as a remarkable discovery."
You might like follow the links on the page to find out more about Claxton.
Mr Kydd.