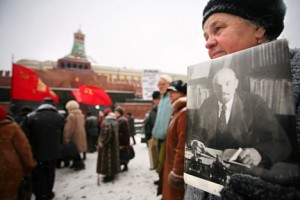 Please click here for an article from RUSSIA – beyond the headlines. It discusses modern views of Lenin, and the never-ending question of what to do with his body.
"Today's generation of Russians have rather mixed feelings when it comes to the leader of the Bolshevik Revolution . The issue of burying Lenin's body, which is still kept in a mausoleum in Red Square, comes up again and again. For the older generation, however, he remains an important historical figure, whereas young people are often unable to tell him from a comic book hero".
Have a read and see what you think. It touches on the question – how much is a historian's views of the past informed by the time in which he or she lives ? If this interests you, then search for my comments on AJP Taylor on the main site.
Mr Kydd.